CHRISTMAS CONCERTS 2023
SANDY AMPHITHEATER 2023
On September 8, Peter and band did a show at the Sandy Amphitheater in UT which included songs they hadn't performed in decades, including "Knocking On My Door" and "One Day Past Memphis". They also did a performance of "Songs About The Great Divide" featuring old footage of the band to commemoroate the 30-year anniversary of their album. Jordan Moyes opened the show. 
7.4.22 - Ed Kenley Amphitheater, Layton, UT.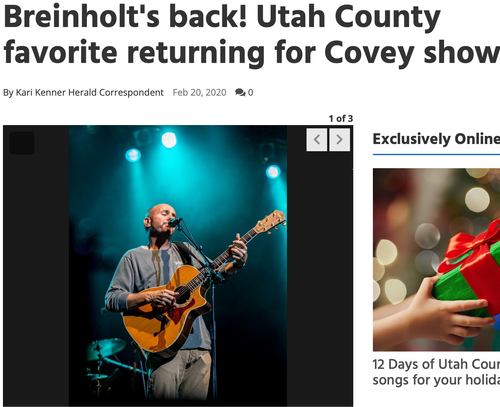 By Kari Kenner (Herald Correspondent), Feb 20, 2020.
"There is a moment in the middle of an ordinary life, where a story comes alive." 
Though it's been over 25 years since singer and songwriter Peter Breinholt first started sharing his music professionally, it's safe to say his story has been coming alive ever since it began in the form of multiple successful albums, tours and a crazy underground popularity early on, especially in Utah in high schools and on college campuses such as Brigham Young University and BYU-Idaho. 
And it was actually through a TEDxBYU event last year that the cogs turned and things connected to bring him back to Provo for his first solo show at the Covey Center for the Arts on Saturday as a part of the 2019-20 Mayor's Series . . . (read more).
TEDx TALK 3.20.19
In March, I got to deliver a Tedx talk and it is now available to view online! I was one of ten speakers that included painter Brian Kershisnik, best-selling author Amy Blankson, and one of Ashoka.org's  most influential and inspiring women in the world, author Karen Dillon. I started the second half of the event with a music set with the band (which you can watch below) and then went straight into my talk.
TEDx MUSIC PERFORMANCE 3.20.19